Welcome to our Thanksgiving Release Celebration!
We are so glad you came by our corner of the internet to check us out. This first day will provide prelude to a memorable occasion as you'll get all kinds of goodies from us.

The first thing you'll notice is some new things for the forum. Most importantly, new smileys, better arcade games and a brand new function allowing you to watch your favorite anime episodes in the forum! Talk about all this here: CVG's Thanksgiving Release Event Day 1
So much new content, we needed a new Team member to help us out. Congrats to JDubbsIII for becoming our new Global Moderator. Discuss this here
Our biggest release(s) for the day involves our brand new Team CVG member, Jor El. We are so fortunate to have him be a part of our team as he's always been considered a true legend regarding making comic centric Mugen stages. He took it upon himself to not only allow us to host his stages, but to also update them just for us. To find out what the actual updates are and their download locations, click the image above or take this link: Jor El's Updated Stages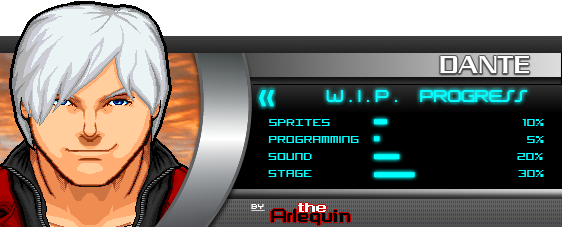 You know you love The Arlequin's Spawn WIP. Well, get ready to fall in love with his next project, Dante. This is got to be one of the best looking Devil May Cry characters that will soon be gracing your Mugen roster. To discuss your thoughts on this, either click one of the images above, or take this link: Dante by The Arlequin
I know you all are excited about Legendkaos' amazing work on this lady as much as I am. Well, this video will give you a sneak peek at what is very close to the final version of her. Speaking of previews, check out that brand new WIP stage by Jor El which will be his first new stage release in quite awhile...and made specifically for Phoenix. To discuss this video and the character, take this link: Phoenix by LegendKaos
JasonTodd has been hard at work to bring our second Green Lantern here at CVG more to life for you all. New animations, new features, I can't wait to get my hands on that latest beta of Guy Gardner. By the way, check out Jor El's updated Lantern Warzone in the video as well. To talk more about this video and when you might see this beta, follow this link: Green Lantern Guy Gardner
Discuss Day 1 of the Thanksgiving Event Here!